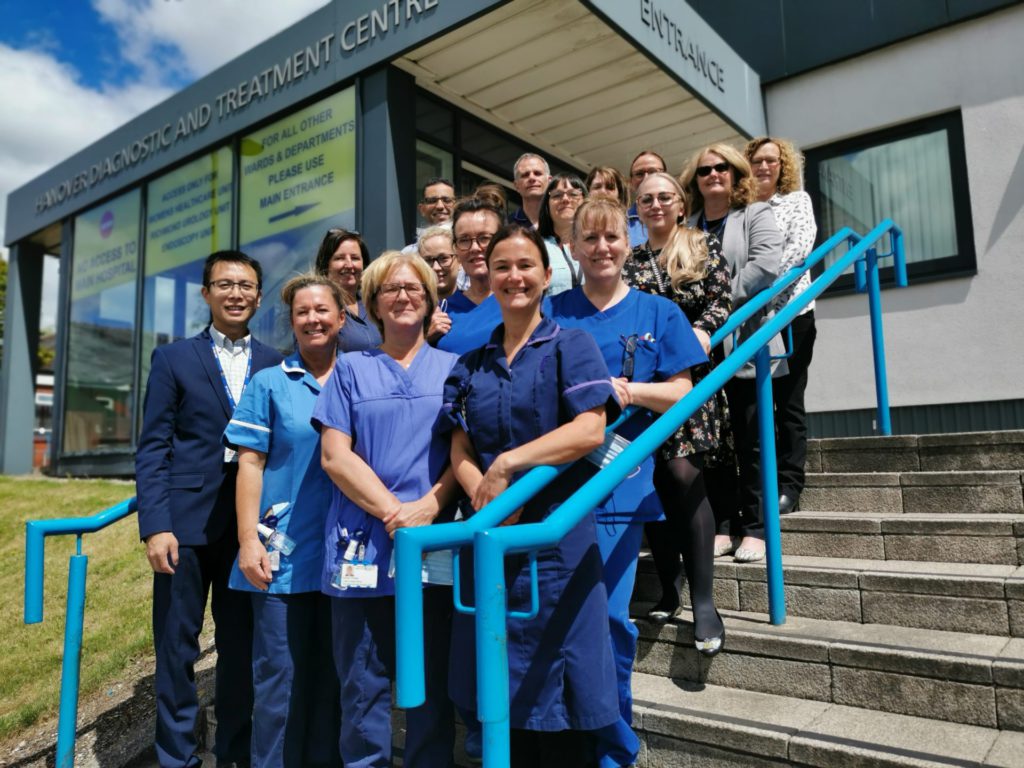 Read our latest newspaper article featuring Mr Matthew Liew, Consultant Urological Surgeon.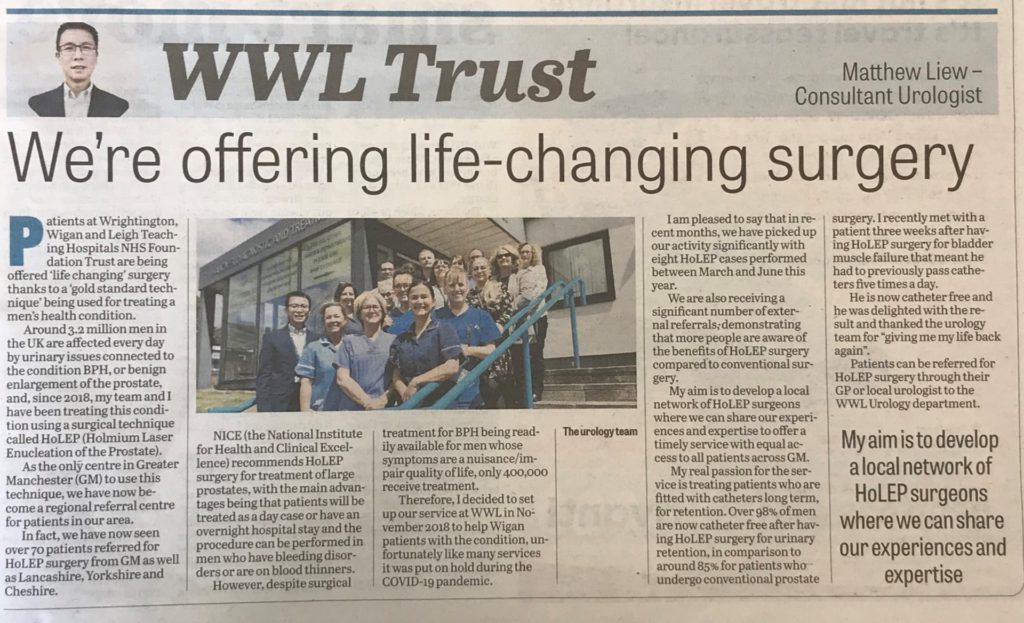 Patients at Wrightington, Wigan and Leigh Teaching Hospitals NHS Foundation Trust are being offered 'life changing' surgery thanks to a 'gold standard technique' being used for treating a men's health condition.
Around 3.2 million men in the UK are affected every day by urinary issues connected to the condition BPH, or benign enlargement of the prostate, and, since 2018, my team and I have been treating this condition using a surgical technique called HoLEP (Holmium Laser Enucleation of the Prostate).
As the only centre in Greater Manchester (GM) to use this technique, we have now become a regional referral centre for patients in our area. In fact, we have now seen over 70 patients referred for HoLEP surgery from GM as well as Lancashire, Yorkshire and Cheshire.
NICE (the National Institute for Health and Clinical Excellence) recommends HoLEP surgery for treatment of large prostates, with the main advantages being that patients will be treated as a day case or have an overnight hospital stay and the procedure can be performed in men who have bleeding disorders or are on blood thinners.
However, despite surgical treatment for BPH being readily available for men whose symptoms are a nuisance/impair quality of life, only 400,000 receive treatment.
Therefore, I decided to set up our service at WWL in November 2018 to help Wigan patients with the condition, unfortunately like many services it was put on hold during the COVID-19 pandemic. I am pleased to say that in recent months, we have picked up our activity significantly with eight HoLEP cases performed between March and June this year. We are also receiving a significant number of external referrals, demonstrating that more people are aware of the benefits of HoLEP surgery compared to conventional surgery.
My aim is to develop a local network of HoLEP surgeons where we can share our experiences and expertise to offer a timely service with equal access to all patients across GM.
My real passion for the service is treating patients who are fitted with catheters long term, for retention. Over 98% of men are now catheter free after having HoLEP surgery for urinary retention, in comparison to around 85% for patients who undergo conventional prostate surgery. I recently met with a patient three weeks after having HoLEP surgery for bladder muscle failure that meant he had to previously pass catheters five times a day. He is now catheter free and he was delighted with the result and thanked the urology team for "giving me my life back again".
Patients can be referred for HoLEP surgery through their GP or local urologist to the WWL Urology department.
If you would like to speak to our team about urinary issues or other treatments, please call us on 0161 327 1269 or email us at info@urologyclinics.co.uk.